LightPro Audit
Are you happy with your auditing tool? How long does it take to collect data, enter it crunch numbers, estimate costs and savings, and create that proposal? We bet it's too long!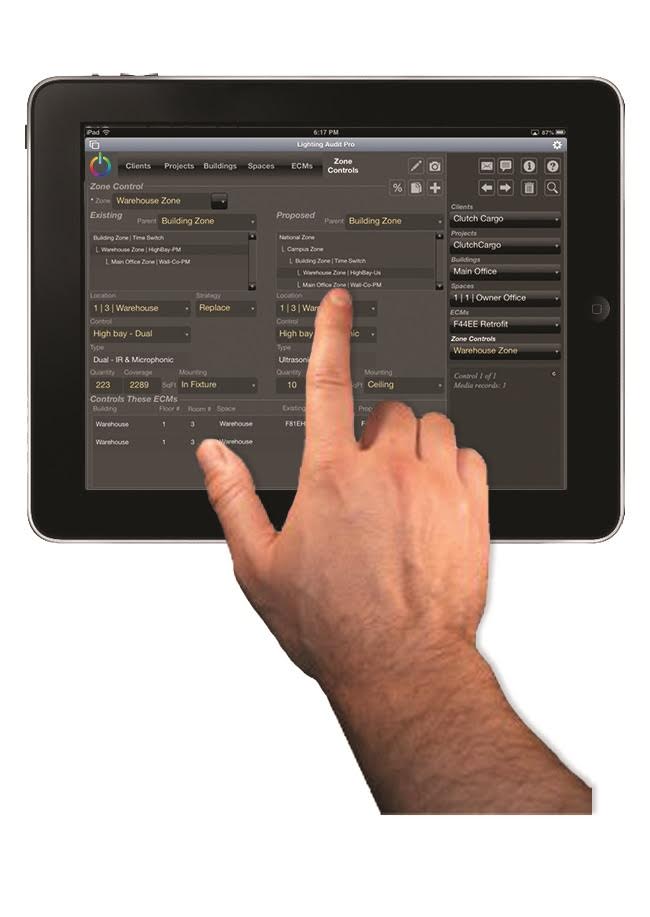 We know because we're in the lighting business too. We know how frustrating it is to learn a competitor won the job because he submitted his proposal before you. You put in extra time to do your best, and wound up looking like a flake because you were late.
Imagine software created by people who do your job and understand your pain. That's LightPro.
Imagine software that remembers your preferences, works the way you want, and anticipates your next steps instead of forcing you to work the some computer geek thinks is better. That's LightPro.
LightPro offers a host time-saving features that eliminate the repetitive work and remember what you've done already. You can copy previous ECM's spaces, entire buildings, or even a campus. You can create a catalog of preferred ECMs as you go, so you can specify with a single tap on any future job. LightPro will slash your audit-to-proposal times by up to 90%, from days or weeks to hours.(actual customer feedback)
We're so confident that if try LightPro Audit, you'll want to keep going. So we'll let you try it for a month without any up costs and without risking a penny. You can perform as many audits you wish. That way, you will see for yourself why it's going to make you more money in less time. .
You have 3 options: Watch the video here or attend a live interactive demo on-line, or use it yourself to create professional looking proposals, estimates, and other reports (if there's a special you want, we can create it for you in a couple of hours for a small fee.)
If you're ready to close more deals and make more money with less work, try it without risk.
No set up, training, or customization fees (unless you need something special.)
Cancel anytime with one month's notice.
We're betting that like most of our customers, you'll continue after the trial.
If not, we'll give your data back, and you'll pay nothing.
LightPro's proposals grabs attention. Good Faith Estimates tell the whole story on one page
Which do you prefer? With LightPro, You get both
Once you've entered (on site or in the office) your existing conditions and proposed energy conservation measures, LightPro will calculate costs, incentives, savings, tax and financial costs and benefits and present them a professional investment-grade proposal or one-page summary. You can add your logo and customer info, a cover letter with your wording, a cost of waiting page, and disclaimers all written in your own words with data embedded. Include pages for project details, photos and cut sheets if you wish. Omit any page you don't want on a proposal by proposal basis. All of these options are set up by you as defaults with the free tools we provide. You can enter and revise them at will. And you can override them on a project by project basis when you wish.
* Why we can say we feel your pain: Our founder owns and runs his lighting retrofit firm in California where energy requirements are strictest and complicated incentive programs change daily. He began his career as an architect, acquired decades of commercial software development and publishing experience, before starting PowerDown Lighting Systems over 14 years ago.
LightPro was developed for our own business, and after showing it to retrofitters throughout the U.S., we realized we'd rather provide tools to our fellow professionals than compete. So we incorporated every best practice we learned or found into it. Our single goal is to help you do more and better business.
And by the way, if you need an audit or labor in other parts of the country, we we regularly introduce or refer our customers to each other to collaborate. Give us a call or visit our Exchange pages to find resources that can help you.